http://www.ideallynewrochelle.com/alvin-and-friends/
About Us
     Described by The New York Times as "a darling of downtown New Rochelle," Alvin & Friends– selected by Open Table users for a 2015 Diner's Choice award and winner of a 2015 Certificate of Excellence from Trip Advisor — serves contemporary cuisine with Southern and Caribbean flavors.  Alvin & Friends – Zagat rated 26 for food, 26 for décor and 26 for service, and named by Westchester Magazine as one of the "Best of Westchester" four years in a row – combines urban sophistication with comfortable elegance: Wooden panels inset with glass windows carve the main room into cozy dining areas, while dramatic iron-and-hemp chandeliers accent the high ceilings and provide a counterpoint to the colorful artwork that covers the walls. Indeed, the dozens of stunning, Matisse-inspired oil paintings — created by owner Alvin Clayton — are part of the restaurant's signature look.
But it's not just the atmosphere, or the paintings — or the mouthwatering menu – that keep customers coming back to Alvin & Friends: Clayton is an engaging and genuine host. "The restaurant is really an extension of my home: I want people to feel welcome from the moment they step through that door. I know that people have choices, and I'm genuinely honored that they choose to be with us," he says.
"You may not enter Alvin & Friends as one of the pals of the owner, Alvin Clayton, but by the time you leave you're likely to feel that you've become one." — The New York Times
"From the warm greeting to the upscale food, friendly service and welcoming ambiance, dining at Alvin & Friends truly gave me the feeling that I added to my circle of friends. I look forward to visiting the Claytons again soon." — The Scarsdale Inquirer
About Alvin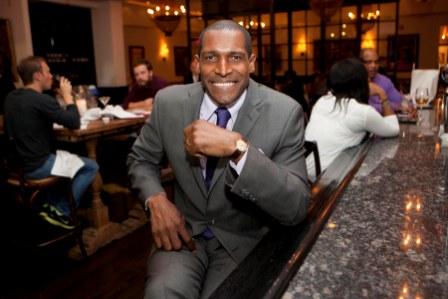 My love of cooking and entertaining began at an early age. I grew up in Trinidad, influenced by the warmth and hospitality of my grandparents. After college, in between modeling jobs, I worked as a waiter in several Manhattan restaurants. It was during this time that I really fell in love with the liveliness and passion of the restaurant business.
After moving to Los Angeles, I was lucky enough to be introduced to restaurateur Brad Johnson, owner of the famed Roxbury Restaurant. Mr. Johnson invited me to be a partner in his new venture, a contemporary, southern restaurant called Georgia, along with Denzel Washington, Norm Nixon, and Debbie Allen. I also became a partner in Creek Alley, a Los Angeles Caribbean restaurant.
After moving back to New York, my family and I settled in New Rochelle. Throughout my travels, Id always dreamed of one day having my own restaurant; a place to call my own. I wanted it to feel as if I was having friends over for a visit, just as my grandparents had entertained their friends when I was a child. In thinking of a concept for cuisine, I knew I wanted to evoke not just one style of food, but a culinary style based on influences that melded harmoniously.
I loved the diversity of the New Rochelle community and knew that it was the perfect place to live my dream and open Alvin & Friends Restaurant. I am blessed to have met so many wonderful people since moving here eleven years ago, and am so grateful for the support I've received in this venture.